Looking down towards the valley from Suprise Lake. The Snake River can be seen winding through Antelope Flats. From here you can ascend Disappointment Peak.
---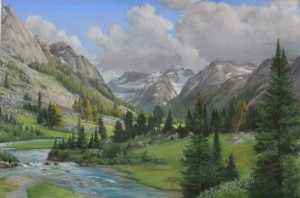 This is a trip I took into Dinwoody Creek with one of the most stunning views of Gannett. You are looking at the Gooseneck Glacier with views of the moraine and Horse Ridge towering above the meadow.
Not Available
---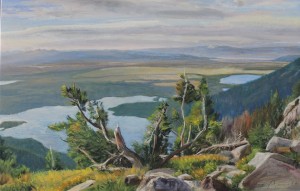 Here is one of the most beautiful campsites in the Tetons. Below is Leigh Lake and further right are String and Jenny lakes.
---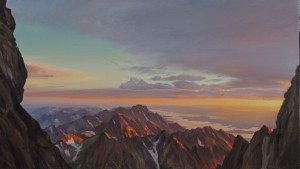 This view is what one might see at dawn if you were climbing the Grand Teton via the Owen Spaulding Route. You are looking towards Mount Moran with Jackson Lake below.
---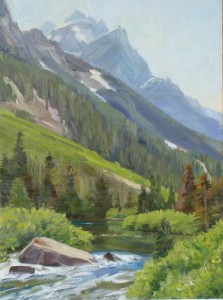 Teewinot, the Grand, and Mt Owen form what is known as the Cathedral Group. Valhalla Canyon rises out of Cascade Canyon and can be ascended by crossing the creek and bushwhacking through the undergrowth.
---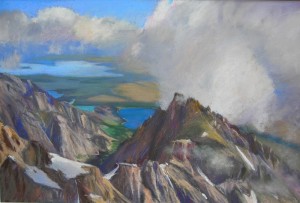 I climbed the East Ridge of the Grand one summer with Kent Marshall and my son Jason. We slept the first night on the moraine, and started climbing in the morning. This route is long and moderate, with dramatic views.
---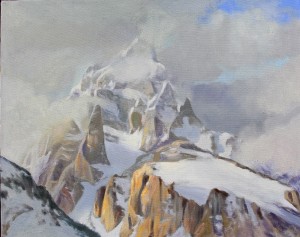 The Grand Teton emerging from clouds. The Grand may seem benign in the warm summer months, but the range can turn hostile very quickly.
---

The view looking south from Mount Moran. The Drizzlepuss is a formation that separates the climbing route from the East Face proper.
---

A view of the Falling Ice taken from the CMC Route. Mount Moran dominates the northern end of the Teton Range, and you can usually find a climbing route without the normal hustle and bustle of the tourist season.
---